Agent Roster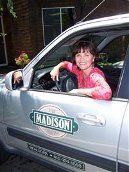 Sandy Mahoney
Realtor®
(415) 246-1848
Office: (415) 459-1550
DRE# #: 01355214
Born in San Francisco, I grew up in Pleasanton, though I have had many addresses—Vista, Hollywood, Redondo Beach, Pensacola, and then back to San Francisco. Taking part in the sale of my great uncle Jack and great aunt Claire's home was the impetus for me to settle in wonderful Marin. That experience, as well as seeing my parents purchase homes in my formative years, opened my eyes to the joys of real estate. In 2002, I made a life-changing career move that was one of the best decisions I ever made.
Using the gift of my Irish gab, I flourished at many a company (Nordstrom, United Airlines, Chico's Casual Clothing, etc.) and waited many a table (even a singing waitress at Max's in SF), all to hone that "situational awareness" that creates successful service.
I have an innate love of detective work (probably from reading too many mysteries); however, it comes in handy when ferreting out the right home for my clients—nothing more satisfying to me than listening to one's wish list and fulfilling it.
I received a B.S. in Art from The University of West Florida, Pensacola and had memorable travels in Europe in 1996. As a side hobby, I have been a voice-over performer for over 20 years. Can you imagine getting compensated to talk? A dream come true for this Irish girl.
I take great joy in my daily walks with my Marin Humane Society rescue boy Louie, cooking hearty soups and stews, Karaoke and a liberal use of the comma, all spent with my cherished partner, Paul.

I work hard for each and every client and strive to provide the independent, honest and thorough service that exemplifies the Madison Company Realtors, providing my clients the service they deserve.
Languages

English